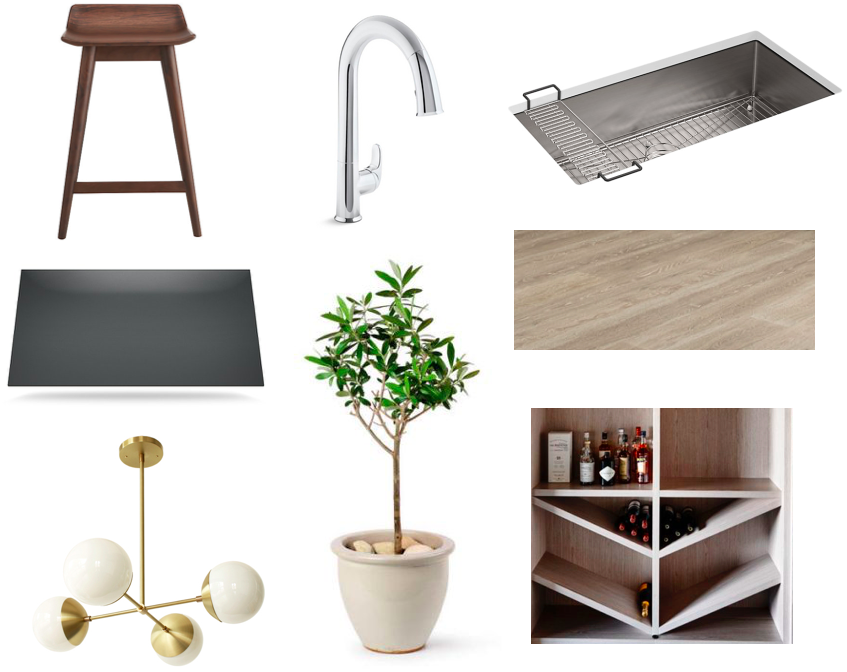 Hello 2017! There has been a lot of movement on our home remodel. Three years of compiling ideas, combined with some decisive design direction, brought us exactly where we need to be for a spring start to rip open this house and start anew! We're gutting the entire house, floors to walls – keeping the tongue and groove ceiling, adding a den, mudroom and larger bathrooms. The goal is to keep true to the original mid century design aesthetic of the home throughout the addition. We added wall-to-wall floor-to-ceiling windows in the den, master, and a few more 2×7 vertical windows. My hope when completed is that we maintain the design integrity of our little 50's house, but make it waaaay more functional (no more 90's beige bathroom and worthless "updates" like the 1 millimeter deep vessel sink).
Above are details from the kitchen, that design is finished (done and done!). There will be light hardwoods throughout the entire house, the simple grey countertops will be complemented with simple cabinetry, accented with two of those fantastic Cedar & Moss fixtures. The island will seat four comfortably (the wall that's currently between the living room and kitchen is outta here). Custom wine storage, and possibly one of my favorite features, an extra large kitchen sink. And while I'm at it, I will admit I am also excited about the touchless faucet. What was once excitement over a cute tube top is now infatuation with a kitchen faucet.
The goal of the kitchen design was to keep things simple, functional, modern, but not contemporary. I want a soothing kitchen. The extra large island (that will not have a stove top or sink, alllll workspace with waterfall countertops) faces a wood burning fireplace, so the goal was to create a space that felt cozy. SUPER EXCITED to give sneak peeks along the way. Next on the design docket, the bathrooms – sayonara fugly blue tile.
---
stools / lighting / faucet / sink