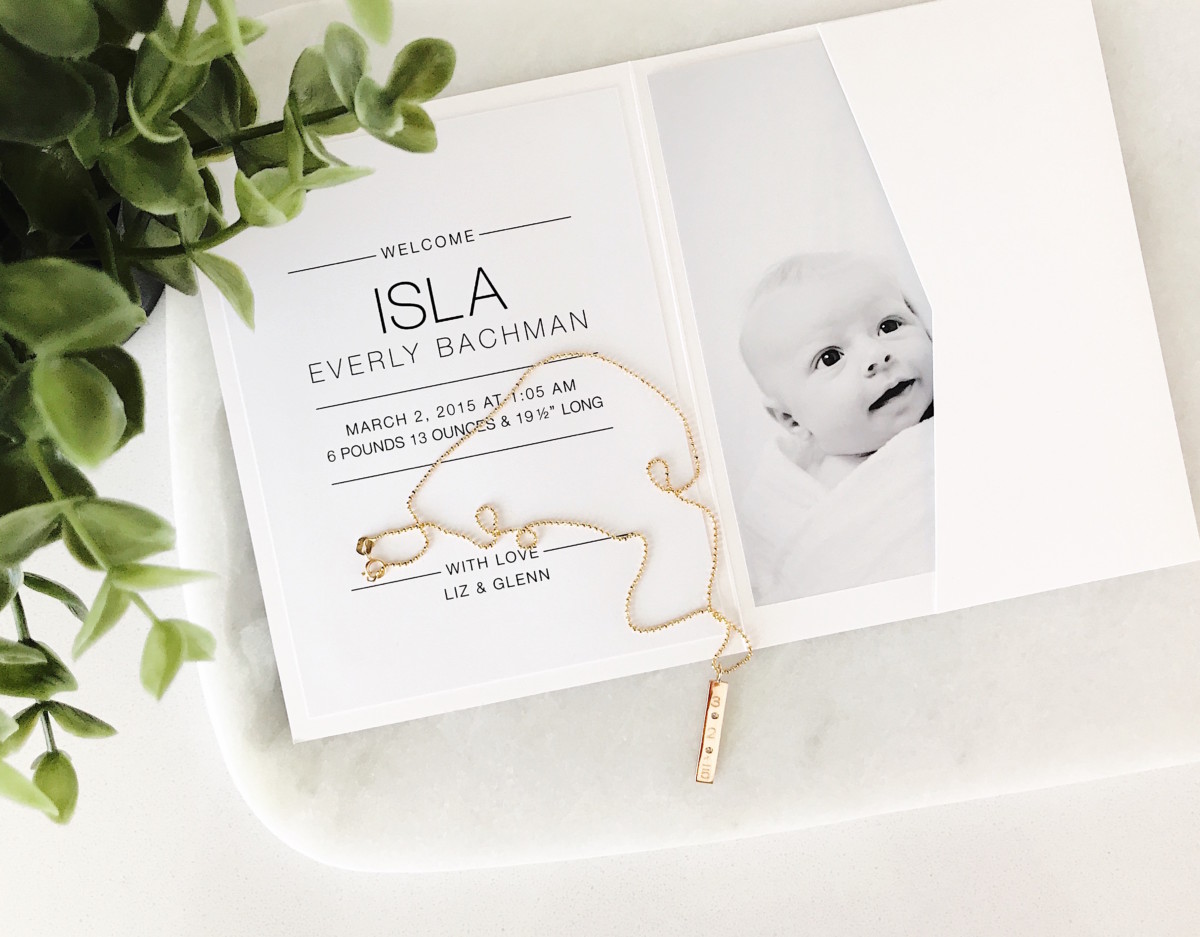 We all embrace motherhood in different ways.
This is how my motherhood journey began . . . 
I was not one to embrace pregnancy like it was the most fabulous thing on earth. To be truthful, I saw it as a means to an end. It's kind of hard to explain, but I wasn't very emotional about the whole thing (I didn't cry when I found out I was pregnant, and was so stone-faced at my first OB appointment my doctor asked if this was a planned pregnancy – yes, thank you, I just can't get my tear ducts to work like a normal human who just received this information!) I had a healthy, very uneventful pregnancy. Baby girl was due to arrive late February, so by January we were getting excited. Crib was put together, room was decorated, diapers were delivered, onesies were stocked, check check check!
Then came the day. We made a deliberate decision not to call anyone on the way to the hospital, we wanted to forgo phone calls and text updates and be present, just the two of us. I remember walking into the hospital calm, quiet and excited, holding my husband's hand. I can replay the details of those 48 hours in my mind like a movie in slow motion. I had never been through anything like this before. I had never even been a patient in the hospital (beyond a quick stint at 18 months), so there was more than enough to keep my mind busy. The methodical way our nurse signed herself in on the white board by the door before checking the contractions on the screen, the determination my husband had to find Friends on the tv for me, the hum of the machines, the corny but sweet jokes the anesthesiologist made to ease the anxiety (which turned out to be no big deal btw) . . .
During the next few hours, it was like being in a bubble, or in between two worlds, Narnia-like, with one foot in our old life, and one foot in my new life as a mother. Then it was time, she was coming, 8 days late, but at least she was on her way now. I remember every last detail. I distinctly remember the nurse saying "March 2, 2015 1:05am". She gently laid Isla in my arms, and we became mother and daughter. That moment was overwhelming, but I very clearly remember thinking that I had protected her heart for the last nine months – I placed my hand on her tiny chest and promised to continue to take care of her heart forever. No matter how many children we do or don't have, 3.2.15 will forever be the moment in time that my life took on new meaning. Whether Isla is cleaning the floor with toilet water (and I mean every inch of the house), asking for "kith-es", or taking my hand so we can walk around the house together,  I feel like the luckiest to have a constant reminder of the most meaningful moment of my life.
From me to you, I wish a very Happy (early) Mother's Day to all the Mamas – whether you're blessed enough to adopt a child who needed you, gave birth, or care for someone like they're your own, you're owed a huge hug, and probably a drink or two. Sometimes we go to bed thinking we failed at the day, but no doubt that little one sleeping in the next room thinks you're a hero. What you do with five hours of sleep and an endless to-do list is more than amazing. So endless for me recently that I forgot to save Isla's hair from her first haircut. For those who remember to save the hair, high-five you overachievers you – for me, I've decidedly landed on hair not attached to the head being gross, and have thoughtfully given Isla a topic for post-childhood therapy. You, are, welcome. A suggestion for those who forget to keep the hair from the first haircut – I snapped a photo of Isla after her haircut and had a silhouette made (from here) to commentate the milestone and her turning two. Two birds, one stone. Which if you want to get technical, is brilliant.
If you know me, you know I'm not an ever changing jewelry wearer. I like to invest in few pieces, simple in design, and meaningful. Among my constants are a rose gold diamond band my husband gave to me when we found out we were having a baby girl, and a pair of gold studs I purchased after I completed my first styling project as a business owner. And now, a necklace engraved with the date my life became infinitely better (and busier). One of the things I love, and will probably remember the most about this necklace, is the way Isla plays with it when she sits on my lap, and the big smile on her face when she gets the numbers right. I can't wait to gift it to her one day.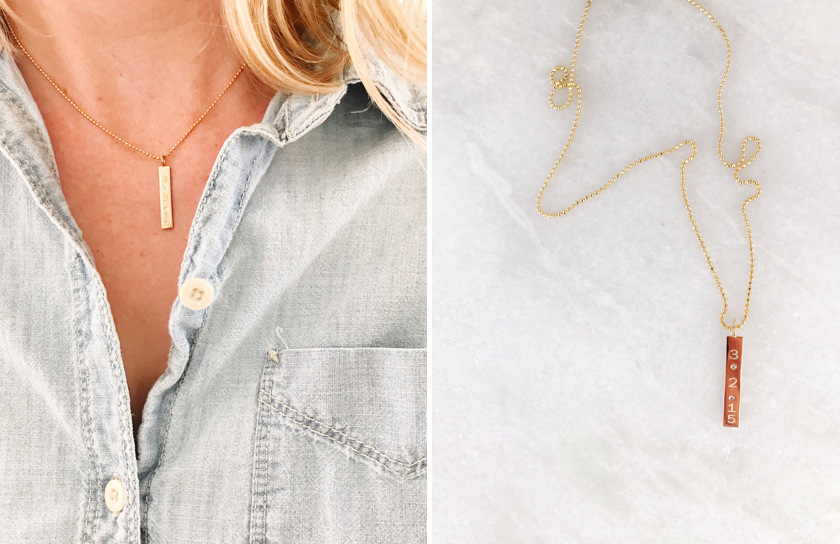 Local jewelry designer, Elizoebeth Jensen, created the simple and stunning piece (above) for her Personalized Collection. I cannot sing her praises enough. Elizoebeth's designs are as thoughtful as they are beautiful. From the delicate, solid gold pendents, intricately stamped numbers, beautifully hand-engraved lettering, to the you-have-to-see-it-in-person 14k gold diamond cut ball chain. The designs begin as hand-drawn sketches, become wax molds, and are finally brought to life and added to the shop. From sterling silver to 14k yellow, rose and white gold, these are modern, handmade pieces to invest in, as they will surely become an heirloom.
In honor of Mother's Day, use the code GREY20 to receive 20% off and complimentary domestic shipping (view the entire personalized collection here) 5% of all proceeds during the month of April and May will go to Every Mother Counts. Whether you're a mama, or in need of a beautiful, every day piece, use the code to treat yourself! These are a few of my favorites . . .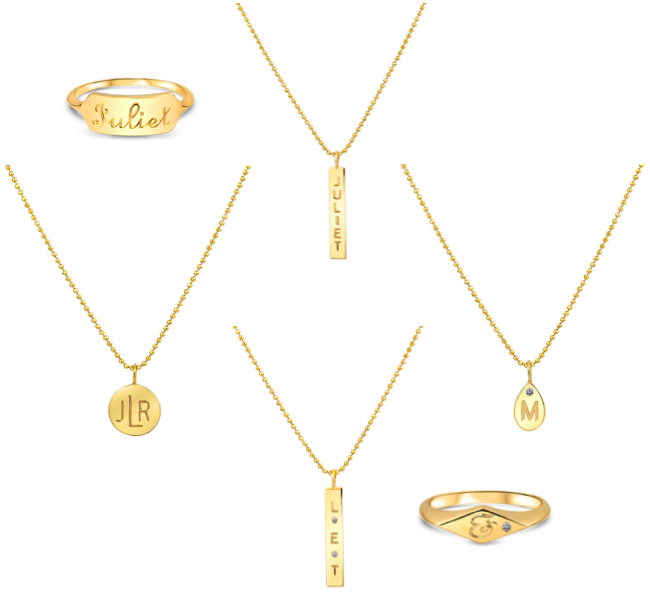 ---
clockwise, from top left:  modern name signet ring ・ name drop necklace ・ teardrop letter necklace with diamond ・ modern letter signet ring with diamond ・ diamond letter necklace ・ circle monogram necklace  (entire collection here)
*pieces are created from recycled solid 14k gold, diamonds are sourced from conflict free regions, and all collections are completed from beginning to end locally