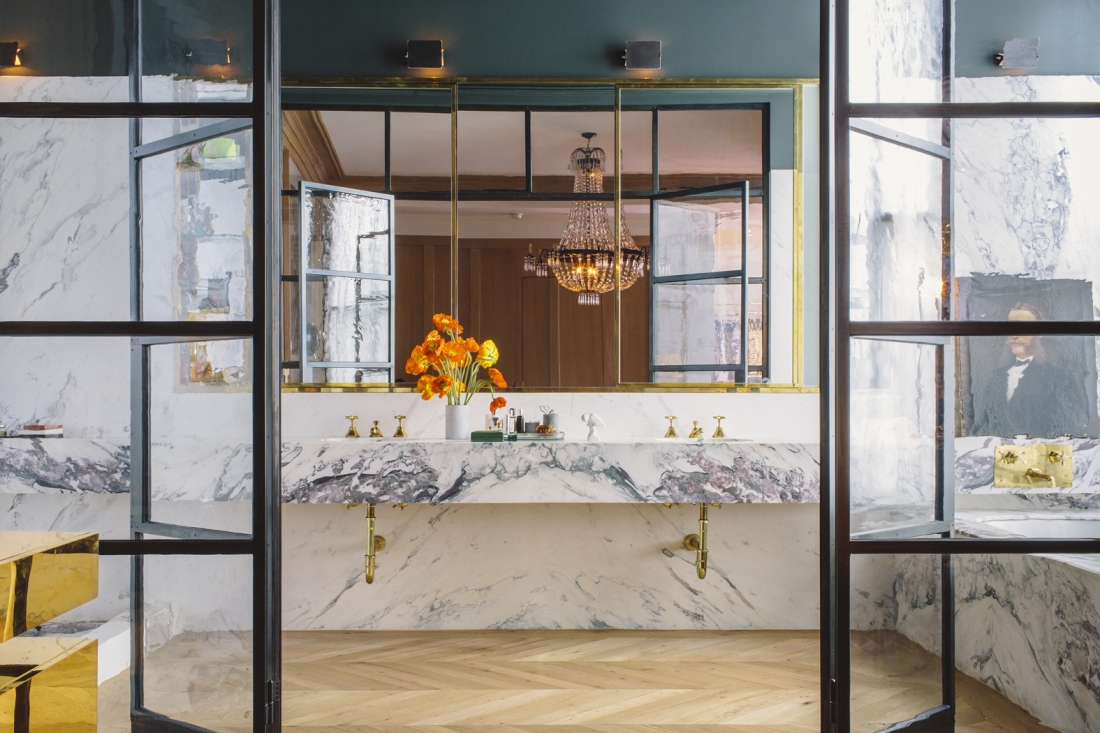 Jenna Lyons is basically a fashion icon at this point. But even those of us who's design interest lends itself more toward interiors have been waiting for the reveal of Jenna's SoHo apartment. T Magazine scored the reveal and it's (in my opinion) even better than her 2008 Brooklyn brownstone that went viral on pinterest. That bathroom is a freaking master piece! It's every thing I want in a bathroom. It's moody, clean, classic, and interesting. I know all-white bathrooms kill on instagram, but I love a bathroom that showcases it's own personality, and is designed to be a part of the house. Bathrooms packed with design punch are becoming the new open-concept kitchen. Why tuck it away?? It's there, you use it every day, it's part of the house you pay a mortgage on – it deserves some love.
I ordered the tile for the bathrooms on Friday, and I'm not going to lie, I was nervous as hell when I left…I went in with one idea, fell in love with a beautiful marble, redesigned the bathrooms right there in the showroom, and decided in the master bathroom to use marble on the floor, and do floor-to-ceiling marble throughout (there's going to be a significant amount of marble in Isla's bathroom too, mixed with some really cool glazed brick tile from Clé Tile). Go bold or go home! There's just something about marble; it's clean, classic, and infuses a space with beautiful design the way no other material does. It's timeless, not trendy. And that's the concept behind the design decisions I'm making for our remodel. I'm trying not to follow the trend. I've pulled inspiration from pages of magazines that I kept before pinterest. I don't want to recreate something I've seen on pinterest, I want to create something I've been dreaming of for years.
After leaving Porcelanosa, I went home that night and ordered brass fixtures and lighting for the bathrooms. And during my late night pinterest binge is when I came across these photos of Jenna's bathroom – it's exactly what I needed to solidify I hadn't gone totally crazy with my marble idea. I love, love the moody color of her walls – it's very similar to the paint color I chose for the master vanity. And that brass backsplash in her kitchen – to die for. If only we could all spend 1 trillion dollars on a brass wall. We're forgoing tiling the kitchen backsplash for a less traditional material; I'm hoping it's those types of choices that will make our home feel more "ours".
Keep scrolling, because there's soooo much goodness in this apartment. You can see the kitchen and bathroom a little more up close in a video here.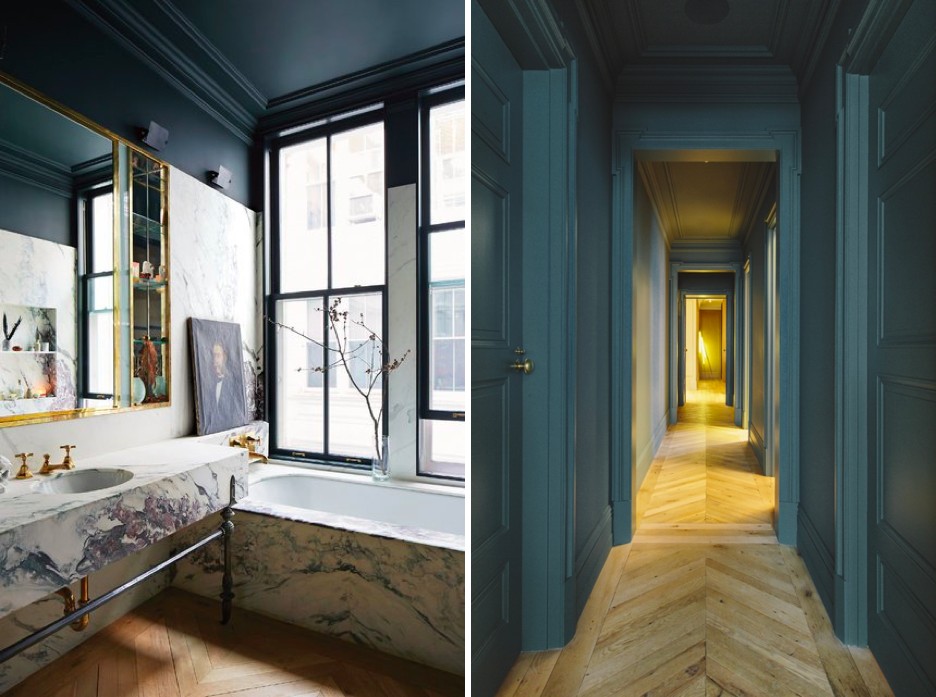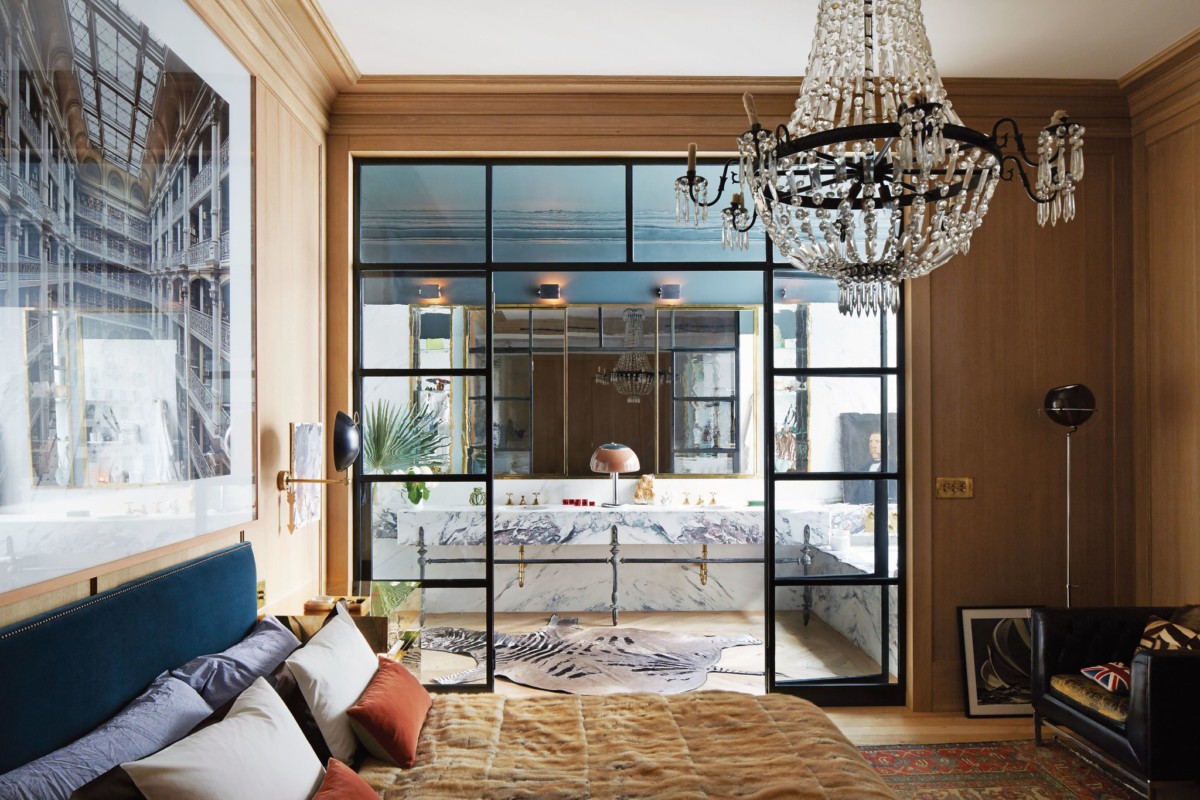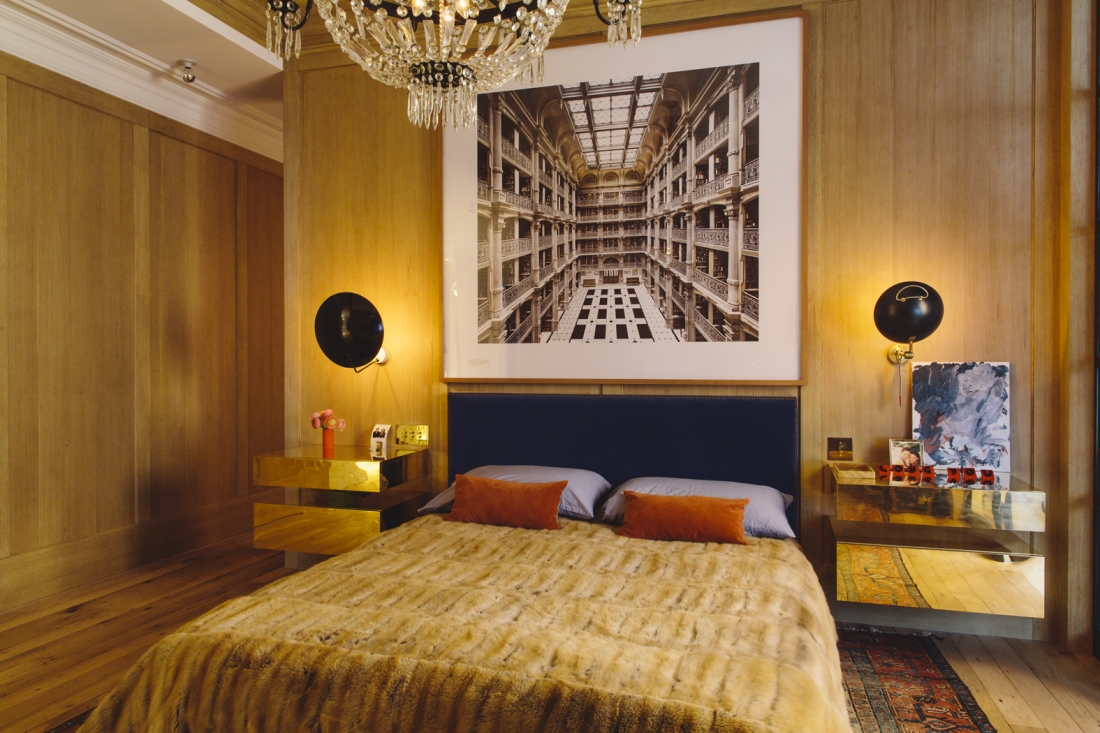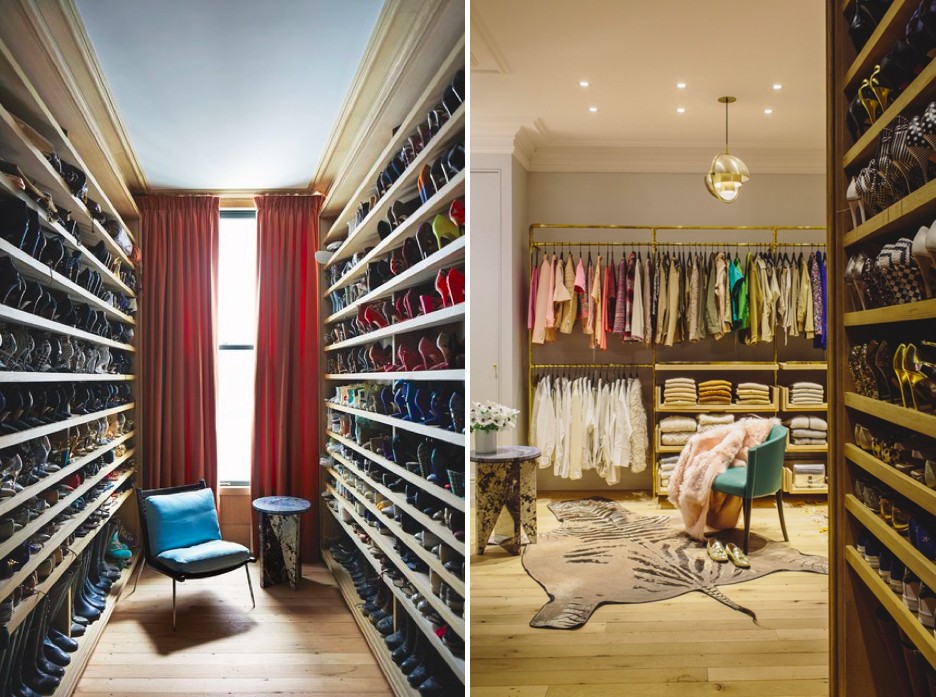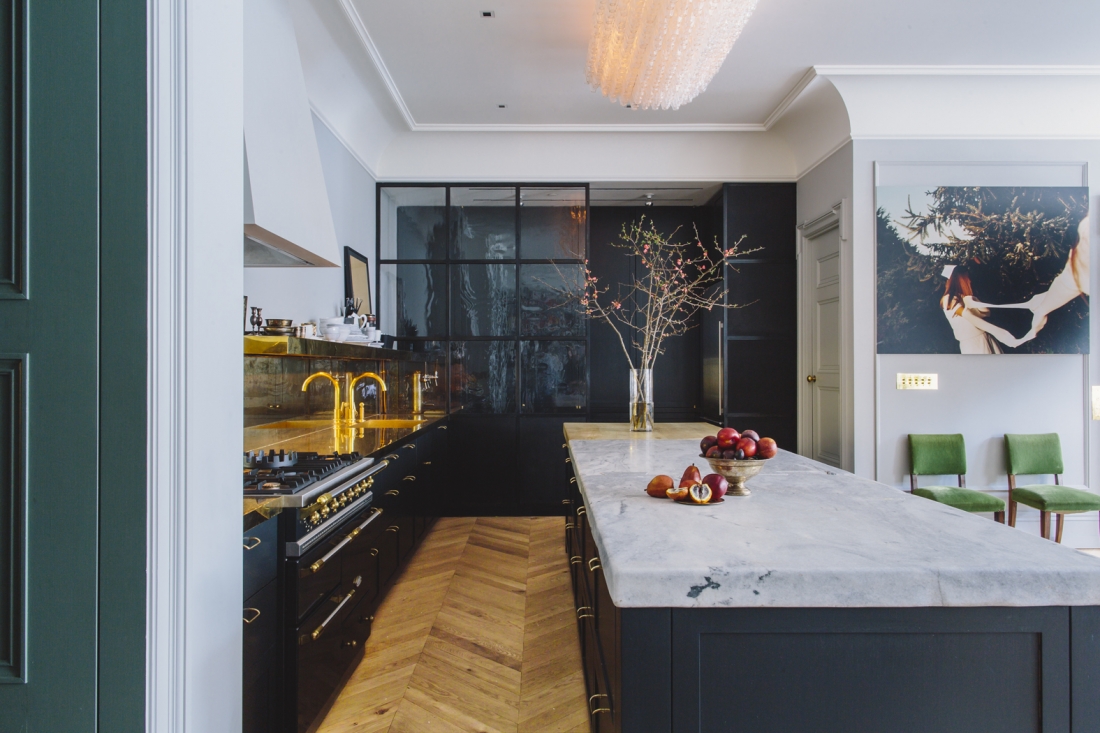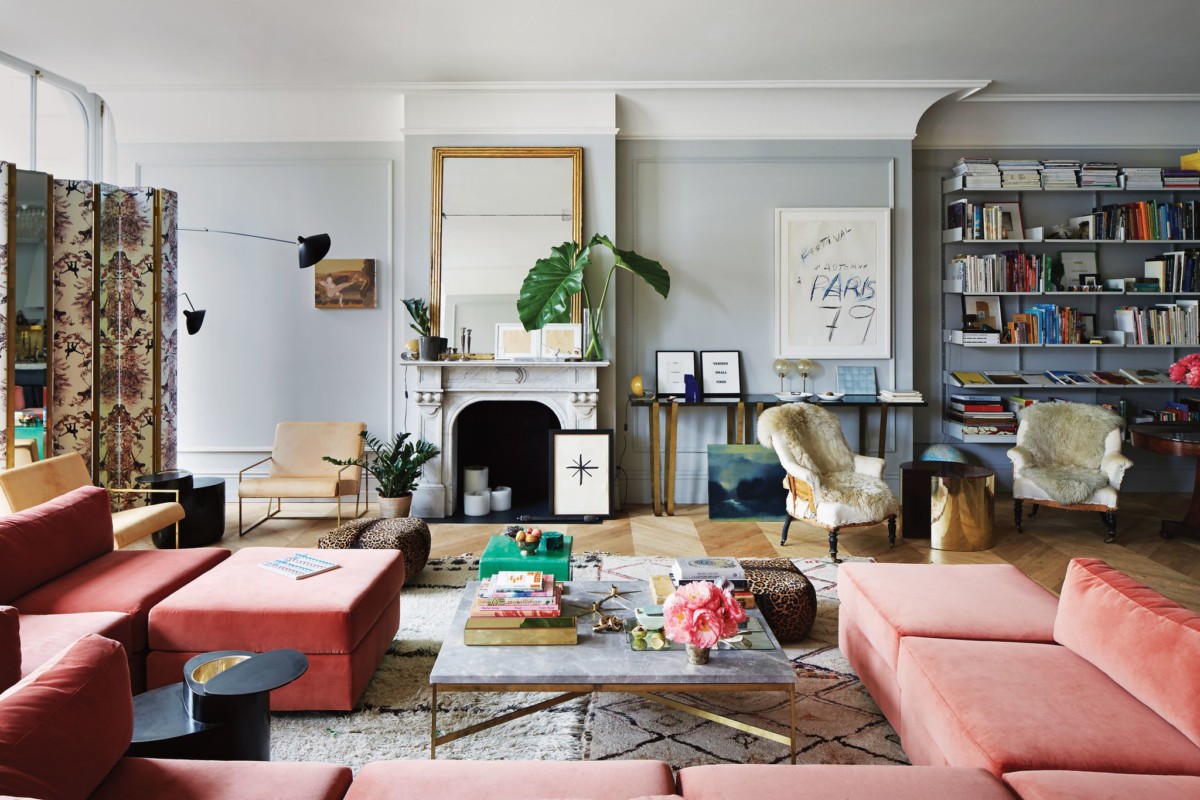 ---